Sixth Spanish-Filipino Scientific Congress: Modernizing Criminal Law and Private Law Euro Asia Vision 2022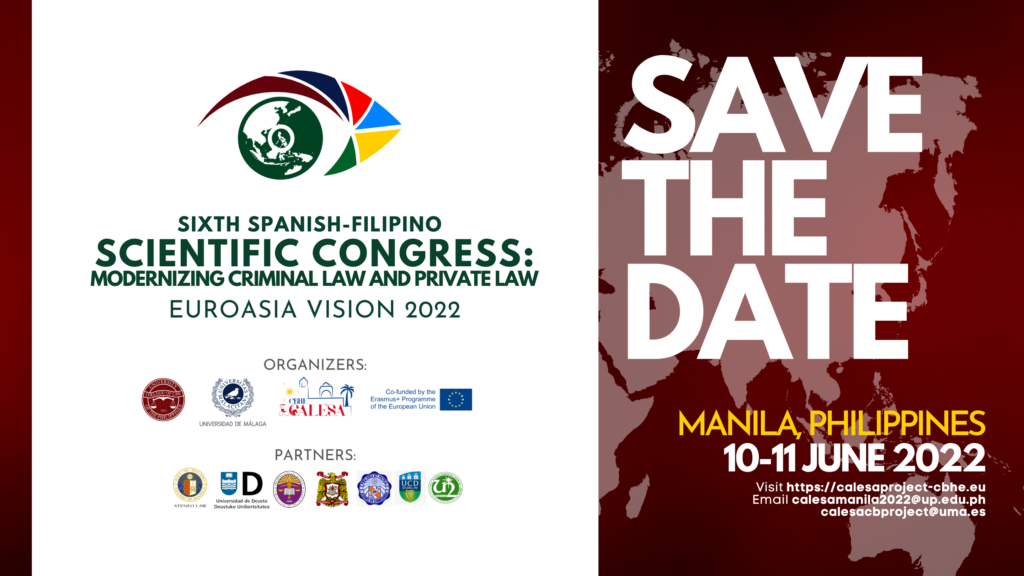 10 – 11 June 2022 – 
Manila, the Philippines
This international Congress is aimed at enhancing the research capacity of Philippine law schools and addressing the following concerns in scholarly advancement vis-àvis policy formulation: academic expertise and research output; modernization of legal codes; human rights awareness and regard for the rule of law; and interest and skill in foreign languages as it impacts cross border legal education and mobility. 
The event is part of the CALESA project (activity 4.4) and will be held on 10 and 11 June 2022 in Manila, in the Phillipines, where experts from Europe and the Phillipines will collaboratively discuss and present papers on the modernization of criminal law and private law.
Registration and updates on the event: https://conf.law.upd.edu.ph/calesa.
Legal Educational challenges after Covid-19 and the Innovation of University Teaching in a Digital, Multilingual and Globalized society: an Euro-Asian Perspective September 2022 – Lisbon, Portugal
More about the event soon (activity 5.3).
Conference on "Common Law as a model for the Philippines" July 2023 – Dublin, Ireland
More about the event soon (activity 2.33 and 4.6)
Conference on Gender Equality July 2023 – Dublin, Ireland
More about the event soon (activities 5.4 and 5.16). Planned for the first semestre 2023 in Dublin – Ireland.
Implementation of the Calesa Project: Final results, proposals and strategy for its sustainability over time January 2024 – Málaga, Spain
More about the event soon (activity 2.37)