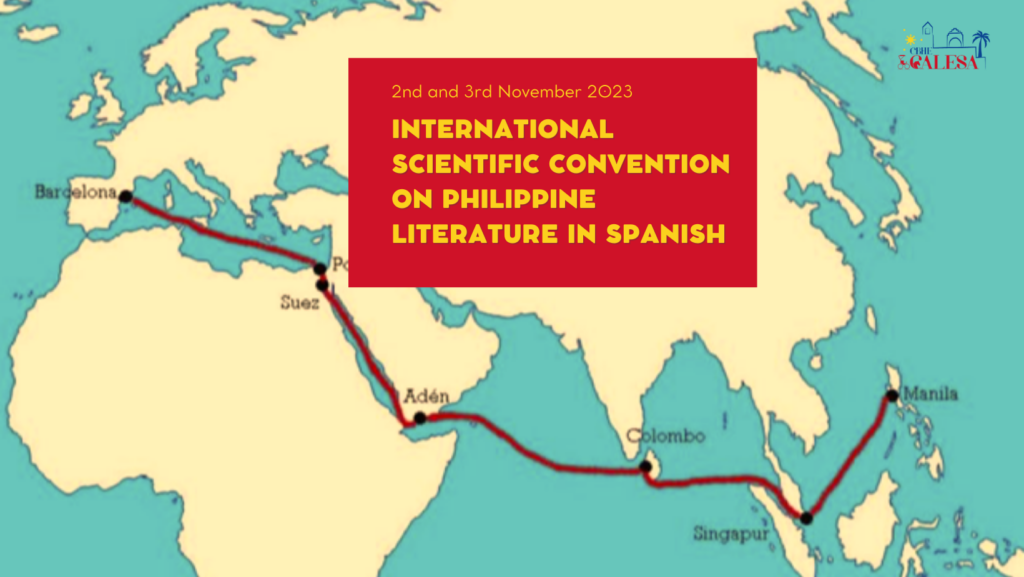 DESCRIPTION
The University of Malaga, through the coordinator of Project Erasmus+ CBHE CALESA, CEIT-UMA, Grupo de Estudios historiográficos del Departamento de Ciencias de UMA and the Cátedra Asia of UMA, is organizing, on 2nd and 3rd November 2023, the International Convention on Philippine Literature in Spanish, which will take place in Malaga (Spain).
OBJECTIVE
The main objective of the Convention is to highlight the value of Philippine literature written in Spanish in order to emphasize its connection with the Spanish-speaking community and its relevance in the Asian context.

The event is part of Activity 2.3 from the CALESA project workplan, as it contributes greatly to enhance multilingual research capacity of the Partner Country HEIs through interest in and facility with Spanish.

DATES AND PLACE
The "International Convention on Philippine Literature in Spanish" will take place on 2nd and 3rd November 2023 at the Universidad de Málaga, in Málaga, Spain,
Thematic Axes
The conference is intended as a continuation of the International Symposium "Literature in Spanish in the Context of Hispano-Asian Studies", which is based on the thematic axes that presided over the symposium:

– Books and travel diaries.

– Literary relations between the Philippines, Spain, Spanish America and the rest of Asia: chronicles of writers, embassies and cultural visits, reviews, literary criticism and correspondence.

– Hispanic origins of genres of Philippine literature in other languages: korido, komediya, drama, drama simboliko, etc.
– The genres of Philippine literature in Spanish.
–
Journalism: Spanish-language newspapers, their contributors and audiences. https://i.escrol.es/ILCYL/DOC/5B271034-9F94-4B88-D7113638D3EB64C6.PDF

– Networks of Spanish-language publishers and editors in the Philippines and Filipinos in the world.

– Representations of the Spanish-speaking world in Philippine literatures.

– Representations of "Asianness" in Filipino writings in Spanish.

– Reception of Filipino literature in Spanish in the world.
– The writing of biographical texts in the Philippines or about Filipinos, their hagiographic dimension and political intentionality.
–
Anthologies of Filipino literature in Spanish. https://www.cervantesvirtual.com/portales/literatura_filipina_en_espanol/catalogo_titulos/
https://www.cervantesvirtual.com/portales/literatura_filipina_en_espanol/literatura_filipina_espanol/

– Testimonies in Spanish of historical and cultural encounters and misunderstandings between Filipinos, Asians and Spanish speakers.

– Reading and reception of Asian literary works in Filipino writers in Spanish.

– Reading and reception of literary works in Spanish by Filipino writers.
– National and regional affiliations and appropriations of Filipino literature in Spanish (Asia, Spain, Spanish America, United States).

-The Philippine Conventions and their relevance to the study of Hispanic-Filipino literature http://revista.carayanpress.com/page149/congresosfilipinistas.html
SPEAKERS
The organization of the Convention aims at the participation of the main experts in the field in the Philippines, Europe and the United States. Among them, the following stand out:

Jorge Mojarro
University of Santo Tomás de Manila

Beatriz Álvarez-Tardío
Rey Juan Carlos University, Spain

Rocío Ortuño
Universidad de Alcalá, Spain
Universiteit Antwerpen, Belgium

Axel Gasquet
Université Blaise Pascal – University Clermont Auvergne, France


Call for Papers

As a way of stimulating the participation of Professors and Researchers from different institutions and amplify the debate and discussion around the topic among different academic communities, a call for papers is now open.

Instructions for the submission of proposals may be found below:


KEY INFORMATION
Deadline for submission of proposal/summary: 10 May 2023
Notification of acceptance of proposals: 30 May 2023.
Deadline for registration: 15 September 2023.


Each accepted proposal will require a 20-minute presentation to be given at the event.

Accepted papers will be submitted to a blind "peer review" process in order to be published in the CRISOL Journal (https://crisol.parisnanterre.fr/index.php/crisol/revuecrisol/)

Proposals and inquires about the event should be sent to: calesacbproject@uma.es