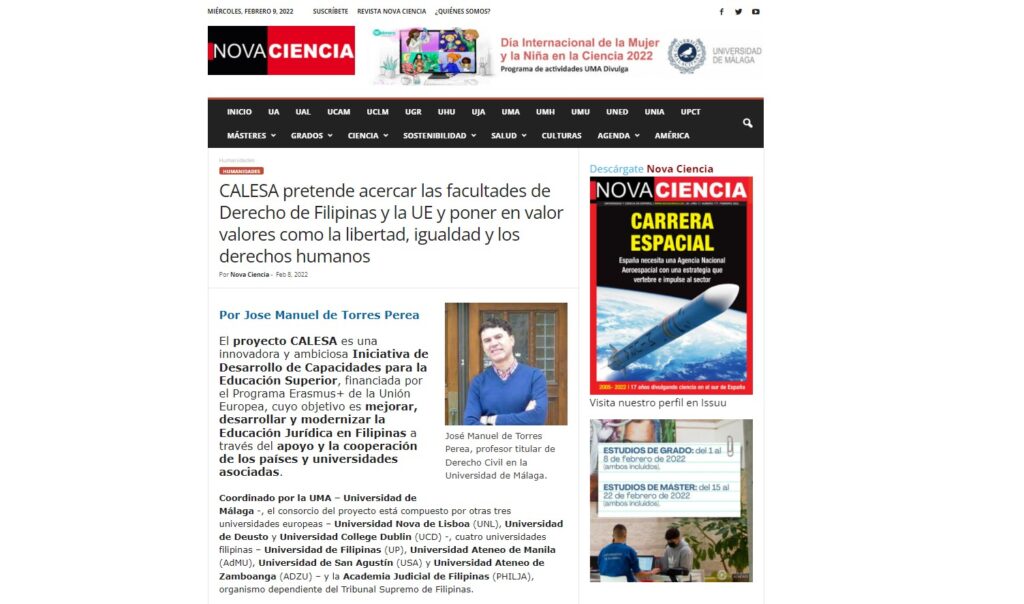 On February 8th, the CALESA project, funded by the Erasmus+ Programme of the European Union, was highlighted by NOVA CIENCIA as an ambitious and innovative initiative in the are of Capacity Building for Higher Education in a publication that pointed out its importance for the development of legal scientific reseach in the Philippines.
José Manuel Torres Perea, Civil Law Professor from the University of Málaga and Coordinator of the Project, took the opportunity to clarify the objectives of the Project and to explain not only why they are so important, but also how they will be achieved.
The article mentioned that throughout the project, several capacity building acvitivites such as seminars and educational events  will be carried out. In 2022, the following ones are planned to take place:
1. "Seminar on the Modernization of Criminal Law" – From 6-9 of June 2022.
2. "Seminar on the Modernization of Commercial Law" – From 6 to 9 and 13th June 2022
3. "Seminar on Global History and the Construction of Global Citizenship" – From 16-17 May, 19-20 and 23-27 May 2022
4. "6th Spanish-Filipino Scientific Congress: Modernizing Criminal Law and Private Law" – Euroasia Vision 2022 – 10 and 11 June 2022.
Finally, until June 2022, the CALESA project will also publish books both in Europe and in the Philippines as a way to support its capacity building initiatives. 
The full article can be accessed here.